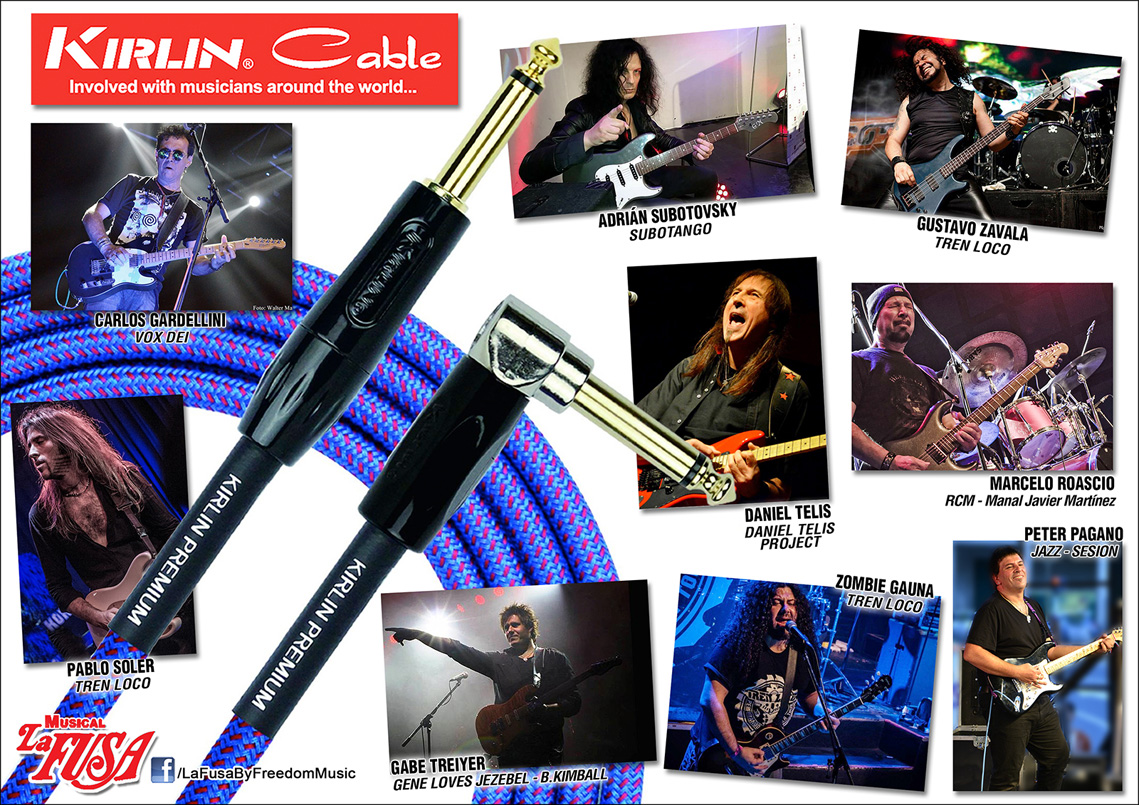 Born in Buenos Aires, Argentina, Marcelo Roascio began playing spanish guitar at the age of five. For his 17th birthday he received his first electric guitar, and except for a few lessons with some blues and jazz teachers, he is basically self-taught.
During his career as a guitar player, Roascio played and recorded with several bands, including Dr.Rock, RCM, Engranaje, Los Arcontes, etc. He also worked as a studio musician doing recordings for commercials and solo artists.
In 1993 he joined Steve Lynch, "Autograph's" guitar player, in his argentine band for some dates. During 1999, he played in "Noches de Guitarras Eléctricas" with Edelmiro Molinari (Almendra, Color Humano), Eduardo Rogatti (Baglietto, León Gieco) and Rodolfo García (Almendra, Aquelarre). In 2001 he played with DigiTech's guitarist/clinician Marc "Coop" Cooper and with Texan bluesman Tony Sarno. In 2007, and again in 2008, he joined Carina Alfie, Diego Mizrahi and Daniel Telis to do a G3 like show called "Guitar Show Argentina" in the ND Ateneo Theater. The same year, he was asked to be part of Stuart Hamm's (Vai, Satriani, Gambale, etc.) argentine band for his Hartke Clinic Tour. In 2010, he played with Carina Alfie, Vernon Neilly (USA) and Bill Hudson (USA) at the "Guitarras on the Rocks" show in the Santa Maria Theater of Buenos Aires. The same year, he co-produced for Warner Chapell and Gallien Krueger's local distributor, the CD "El Poder del Bajo".
Since 2010, he's been a regular guest for the heavy metal band "Tren Loco", performing with them at every edition of the "Metal Para Todos Festival" in front of an average audience of 5000 people. In 2011, Roascio toured with his band "RCM" and Vernon Neilly thru different provinces of Argentina. In 2015, Roascio shared the stage with "Marillion's" guitar player Steve Rothery, and with spanish session ace David Palau (Serrat, David Bisbal, Alejandro Sanz, etc.)

In January 2012, Marcelo Roascio was invited by "Fernandes Guitars" to play at their booth during the NAMM 2012 show in Anaheim, California. While in USA, he also did a clinic with Vernon Neilly at the 32nd Street Magnet School/USC Mast. from Los Angeles, California.
Again in 2014, he was part of the NAMM Show playing for "Joyo/Dr.J" effects pedals and UK's "Hiwatt amps", where he shared a jam session with Elliott Easton (Steely Dan, Blues Brothers, Yoko Ono, etc.)
Being a musician himself, Marcelo Roascio did also several clinic-translations with artists like George Benson, Alphonso Johnson (Santana, Weather Report), Steve Lynch (Autograph), Heinz Affolter, Steve Morse (Deep Purple), Marty Friedman (Megadeth), Stu Hamm (Joe Satriani), John Patitucci (Chick Corea), Scott Wilkie & David Derge (Roland), John Maul (Roland), Nicko McBrain (Iron Maiden), Lee Oskar, Gregg Bissonette (D.L. Roth, Satriani, Vai), Steve McNally (Korg), Freddy DeMarco (Vox/Korg demonstrator), Michael Smith (Peavey), Will Smith/Dr. Epiphone (Epiphone), Brian Gabriel (Vox clinician), Tosin Abasi (Animals as Leaders), among others.
CLINICIAN
During 1983, Roascio was one of the first argentine musicians who served as YAMAHA's local endorser, appearing in several magazine ads.

In 1993 he began to work as an endorser for CRATE amplifiers, doing clinics though the whole country. During 1996 he briefly was part of the musician staff for IMSA/Promúsica, demonstrating SAMICK guitars and BOSS/ROLAND effects. In 1997, besides doing the CRATE clinics, he was named endorser for ARIA Pro II (guitars), DANELECTRO (effect pedals) and DiMARZIO (pickups).

From '99 to 2000, after finishing his former contract, Roascio worked as a clinician for the local distributor of IBANEZ guitars, LANEY amps and THOMASTIK strings. In 2001 he participated in the LINE 6 products clinics with guitarist/clinician Will Rodriguez in Buenos Aires.
From 2003 to 2006, he worked doing clinics with two argentine music companies -WENSTONE amplifiers and D.O.H. guitars- and also for QUEEN guitar strings. From 2007 'till 2014, Roascio was international endorser for FERNANDES guitars, appearing at their catalogue. Since 2009, he is endorsed by ERNIE BALL strings, MORLEY pedals, HIWATT amps, KIRLIN cables, JOYO pedals and ANTITODO straps, appearing in their ads and doing clinics all over Argentina.

In 2015 he became international endorser for ERNIE BALL/MUSIC MAN and also STERLING by MUSIC/MAN guitars, appearing on their 2015 catalogue.